I've lived in Streatham for seven years, and it's changed a lot in that time. Not quite as dramatically as Brixton (which tipped over into 'new Shoreditch' territory long before the arrival of Pop), or Balham (which now caters exclusively to yummy mummies priced out of Clapham's leafier areas), but it's definitely changed.
Once named Britain's worst high street by Radio 4 listeners, the main road running through Streatham has cleaned up, existing family-run businesses have given themselves a new lick of paint, and new independent entrepreneurs have moved into the neighbourhood. Estate agents are still desperate to label it 'up and coming', but those of us who've been here for a while know that Streatham has been desirable for years, with the ongoing evolution of the high street, the green spaces, the investment in local arts, food and sports, and the very real community spirit.
One of my favourite things to do in Streatham – or anywhere actually – is to go out for breakfast. Or lunch. Or dinner. Or dessert – always dessert. There are very few places where you'll be spoilt for a choice between Indian, Chinese, Vietnamese, Lebanese, Japanese, Spanish, British, Polish within a 1 mile radius, but Streatham has it all and more…
Hood
Brought to life by siblings Robin and Melanie Frean as well as a crowdfunding effort, the description "independent, friendly neighbourhood restaurant" couldn't be more fitting. Serving locally sourced, seasonal modern British food accompanied by locally brewed beers and European wines, Hood has been one of the best places to eat in Streatham since opening it's doors 3 years ago – we've celebrated birthday's here with tailored set menu's (the guys are very accommodating!) and it's our go-to if friends or family are visiting.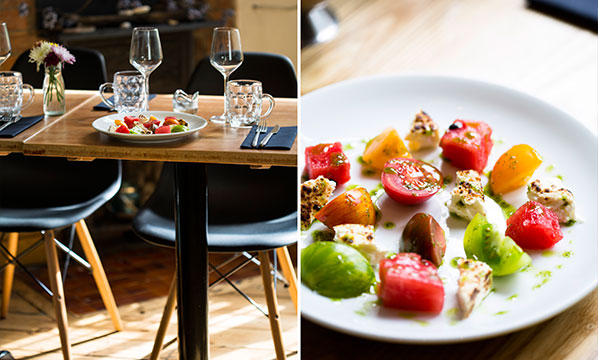 Photo from Hood
Rice Republic
You'd be forgiven if you'd missed this unassuming Chinese restaurant on the high street – from the outside it doesn't look particularly inviting, and they do very little in terms of marketing online. What they lack here they more than make up for with their homemade dim sum, siu mai, dumplings and steamed buns. With reasonable prices and good service too, you'll leave feeling comfortably full and content.
Bravi Ragaazi
No longer the hidden gem it once was, Bravi Ragazzi's pizzas are still worth the wait if you have the time. Opened by 2 Neapolitan musicians with no knowledge of the restaurant world but with a big love for food, it really is all about the pizza here – Neapolitan-style sourdough pizza to be exact, all blasted in a wood-fired oven. Decor and atmosphere is casual, and the unit is tiny, so be prepared to get cosy with the couple next to you! We've always chased our pizza with a beer by choice, but have also heard that the wine isn't worth the price.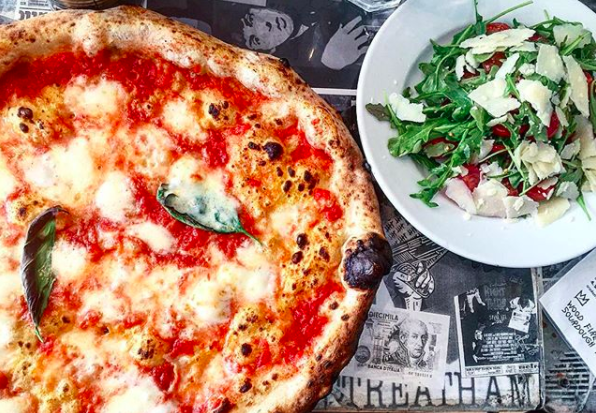 Photo by Bang Bang Bites
Slurp
No frills Chinese, Japanese and Thai dishes at a decent price. I can't comment on the in-house service, but both takeaway and delivery has always been friendly, fresh and fast. Their bento boxes are better than most in the South, especially since the closure of Bento in Balham.
Bar 61
Family run Bar 61 is an experience most people won't forget. From the moment you step inside, to the shot of limoncello you'll be handed before you leave, you'll be treated like family by the occasionally-too-friendly-especially-if-you're-British wait staff. Roll with it, enjoy it, and don't be put off by the slightly dated dark-wood decor; the tapas menu is vast and each dish is as delicious as the last, so go with friends who're happy to share.
Fun fact: it's rated No 3 on Trip Advisor for ALL restaurants in the UK!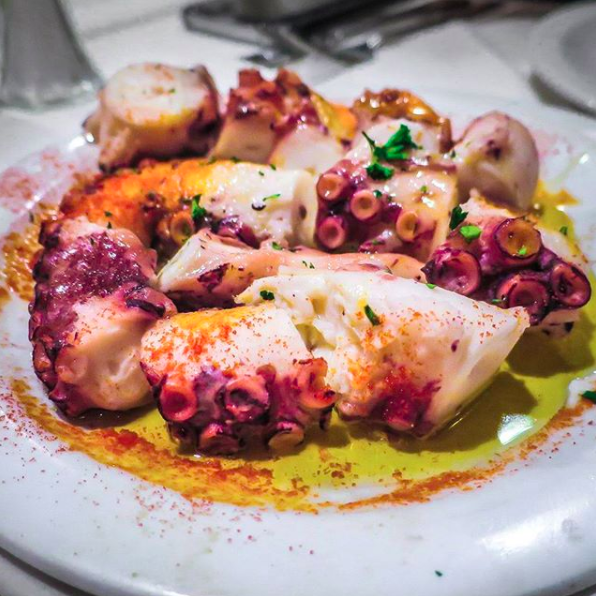 Photo by Ordinary Patrons
Kennedy's Fish & Chips
So you've made it to Friday and decided to eat at home instead? Do yourself a favour and call ahead to put an order in at Kennedy's. If you rock up at 7pm, you'll be greeted by a queue that winds around the corner; if you call and collect, you can just walk in the second door and pick up from the counter. Portions are very generous, fish and pies are both great choices, and the real test of any chippy – the mushy peas – are excellent.
There are tons of other decent places to eat in Streatham that I haven't mentioned yet (Hideaway for their breakfasts, La Casita for their garlic prawns and green wine) as well as a few we haven't tried (Saigon Bistro, Boyce De Roca, Cafe Barcelona are on the list), but I'll be adding to this post as we work our way down the high street.
I'll be doing separate posts for the coolest coffee shops, the best pubs, and general food shopping soon – let me know if you have any favourites I've missed!